Hi there DYEHARDS!




I've been working on something new! I have been collecting very large stencils - some as tall as I am! Many of these have a Florida vibe, and I thought it was time for a retreat to share the fun of fabric collage by layering these jumbo stencils. I have jellyfish and flamingos, mermaids and palm trees, hibiscus and an octopus. I'm also bringing smaller "filler" and accent stencils to add interest

I have reserved all 7 units of the Cocoa Sands Beach Cottages, right on the water in Cocoa Beach, FL. We can comfortably sleep 20 to 24. Each unit has a kitchen, comfy bed or a comfy pull out sofa. I have stayed at these beach rentals and found them to have everything I needed for a clean and comfortable stay! Bring a friend and rent a whole unit, or come and meet some new friends. The weather will be wonderful in Florida at the beginning of February and we have two private beachside patios. You can check them out here. http://cocosands.com/cocoa-beach/

Here is our Schedule -

Thursday, February 1, 2024
4:00 p.m. Check in, and get settled.
5:00 p.m. ICE breaker Happy Hour and show and tell.
Substantial Nibbles
Frozen Concoctions of a Fruity Nature*
Getting to Know You Volleyball (zero athleticism required!)
6:00 p.m. Beginning with Backgrounds
Each student can expect to dye several yards of backgrounds, some with ice dyeing, some with ombre. These will be the basis of our collages. Each piece will aim at 36" x 48" or larger.


Friday, February 2, 2024
8:00 a.m. to noon.
This morning's menu includes a basic coffee bar**, a juice bar, a fresh fruit salad and an assortment of bagels and spreads from a local deli.
During this time we will also rinse and wash, dry and iron our background fabric from the night before. With sinks, hoses, a large covered carport, 2 private patios, and a laundry, we will make short work of it.
12:00 - A light and healthy lunch of salad and sandwiches will be served.
1:00 - It's Stencil Time!
Using one or more stencils, corn dextrin or potato dextrin, we will add our first layer. Remember that there are quite a few stencils, and some will take longer to dry than others. Design elements will be the focus.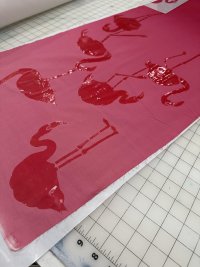 We will begin to mix our over dye for the next step, and depending on the drying time of our dextrin resists, we may begin the over dyeing process. Layering color will be the focus. It is an ambitious day, but I think we can do it!
After 5:00 p.m.

You have a free night. You may want to go hit Cocoa Beach and have fun, you may want to keep playing and order in, a long walk on the beach, OR you may want to pass out! 😘
Saturday, February 3, 2024
8:00 a.m. to 10:00 a.m.
This morning's menu includes a basic coffee bar, a juice bar, a yogurt and granola bar, and pastries.
During this time we will rinse and wash our fabric from the night before. We will also continue to over-dye our remaining pieces.
10:00 a.m. Our over-dye process is fast paced, so we will rinse, wash and dry these right away, preparing for the next layer of fun.
12:00 - A light and healthy lunch of salad and sandwiches will be served.
1:00 - More stencils, more layering and more details. After lunch is time for several layers of pearlized and lustrous fabric paint! Using pigments and extenders, we will build a vibrant palette of fabric paint to suit our needs. Layering transparent and opaque fabric paints will add depth and dimension. I can't wait to add some quilting and make these bubbles "Pop"


Saturday after 6:00 - Cheeseburgers In Paradise Happy Hour & BBQ
Expect games, prizes and laughter!
Sunday, February 4, 2024
8:00 a.m. to 10:00 a.m.
This morning's menu includes a basic coffee bar, a
juice bar and muffins
During this time we will finish up any painting that remains, clean up our work area, answer any questions you may have about the process.
12:00 - We must check out and say goodbye!
*Frozen Fruity Concoctions will be made without alcohol. There will be a basic "add a shot" honor bar available for those that choose to make it a party! If you want anything else, please feel free to "BYOB"
**Coffee has become a very complicated thing. There will be a pot of medium roast, a pot of dark roast, sugar and half and half. If you take special creamer, sugar substitute or tutti-fruitti-yappa-hooty flavors, please bring what you need.
Student Supply List
Art Clothes and Shoes, Paper Towels,

Craft Scissors, Safety Pins, Sharpie Marker, 2 Plastic Bins with Lids
-
Approximately 27" long, 16" wide and 6" tall, a roll of Freezer Paper, a selection of fabric paintbrushes ranging from 1/4" to 2".

What will Cindy Provide?
High Quality "pfd" fabric, a rainbow of fiber reactive dye, fixatives, detergents, gloves, dust masks, mixing cups, mixing spoons, measuring cups and spoons, Stencils galore, paints and extenders, stencil tools, paint tools, tables, chairs, both corn and potato dextrin, and print paste.
Cindy will also bring a great workshop with waves of humor and fun!
***IF you need to break this up into payments, please contact me! I am happy to discuss options.
****Once signed up, I will email you a
questionnaire to help get you in the right unit, a comfortable bed location, and the perfect roommate. You can also tell me about any food allergies or special requests at that time.

Day Trippers - people who live close enough to come in every day and don't want to stay will be considered after December 15th.