Three Different Ornaments ~ Three Classes ~ Three Designers!
Wednesday, December 2, 2020 7:00-8:30 p.m. EST
Tammy Silvers of Tamarinis
We will be making easy, no sew Modern Felt Christmas Ornaments. These are so quick, so easy, so fun, you'll want to make them in every color. Bonus – they would work wonderfully as gift tags too!
Wednesday, December 9, 2020 7:00-8:30 p.m. EST
Kathie Beltz of Kathie Beltz Quilt Designs
Use two contrasting Christmas fabrics and a few folds to make this simple yet interesting ornament. So quick and easy, you can't make just one!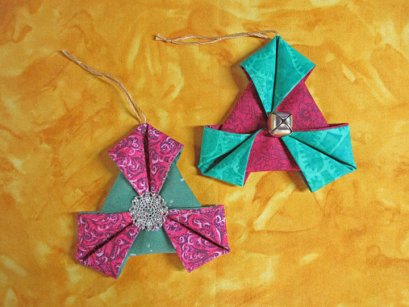 Wednesday, December 16, 2020 7:00-8:30 p.m. EST
Cindy Lohbeck of Dyehard's Studios
Bring on the glitz and glamour when you take clear glass ornaments and dye them bright cheerful tones. The frosted, seagrass effect just glows! What a terrific gift these would make!
Custom Color your glass ornaments, candleholders, vases and more, with fiber reactive dye!


Remember, you only need to sign up once - and no matter where you sign up (Tammy's site, Kathie's website, or Cindy's), you get access to all three classes for just one price - $10.00!
$10 gives you admission to all three classes! Can't make a class? You will have access to the recorded class so you can create on your own schedule.
All classes will be conducted in our private Facebook group, exclusively for The Great Ornament Challenge 2020. All supply lists and schedules will be there as well.
Add this event to your cart, and you will receive an invitation to the Ornament Challenge Facebook Group. We can't wait to see you in December!