Snow & Ice Dyeing
Snow & Ice dyeing is all the rage in fabric dyeing circles! Random, playful and multi-colored direct dye application creates beautiful crystallized images on fabric. Every batch will bring amazing results with this #1 selling class.


---
24 Step Color Gradations
Learn the nuances of mixing a 24 fat quarter color gradation from three colors of dye! Take your color wheel beyond primary, secondary and tertiary with this beautiful collection of tone on tone "quilter's solids". This tidy and organized method makes dyeing your own fabric fun and easy!
---

Full Spectrum with Added Value!

This class is a stash builders delight! You will mix a 12 step color gradation from 3 packets of dye, then learn how to dye a light, medium and dark value gradation of each of those colors! That's 36 fat quarters – or 9 yards!
*This class is the subject of my iquilt.com online class - check it out!
---

Six Shade Value Gradations
So many of today's quilt patterns call for value, value, value! In this class you will choose 7 colors from the Brights Collection or from the Earth Tones collection, and dye a 6 value gradation of each color. That's 42 fat quarters in all!
---

"Rad Ombre's" - Ombre` the easy way!

Ombré /ˈɒmbreɪ/ (literally "shaded" in French) is the gradual blending of one color hue to another, usually moving tints and shades from light to dark.

No more bending and twisting, dip dyeing and hoping to achieve the gradual changes characteristic to ombre` fabrics. Learn this methodical method to the create subtle value shifts from light to dark, or the explore range of color created when blending two colors together. Using 18"x 44" half yard cut pieces of fabric, this can be a held as a half day class (3 yards) or a full day class (all the fabric you can dye!), and each student takes home a reusable toolkit to continue the creative fun!
---

"Fiddy Shadz" - A study dyeing in grey and black through ombre` dyeing.

So many shades of grey! Some read blue, some green, and some purple. Finding the perfect warm grey can be challenging, and may require some experimenting. Using an easy ombré`technique helps find the under tones of each shade of dye. Using 18"x 44" half yard cut pieces of fabric, each student will work their way through several shades of fiber reactive grey dye, moving into blacks. We even explore using Hot Water fiber reactive dyes to achieve the perfect shade of grey!
---

"Slip Me Some Skin" - Ombre Dyeing for Portrait Quilters!

How many skin tones are necessary to create a realistic portrait quilt? So many shadows and highlights! Find out how to create the perfect shade for any skin tone in this Ombre` the Easy Way class. After dyeing the basic flesh tones, we will kick it up a notch by making complimentary shades for lips and cheeks. Everything needed for your approach to the perfect portrait quilt.
---
"Welcome to the Fold" – Itajime Shibori
A fresh and modern approach to the ancient Shibori technique of "shaped resist" fabric dyeing. Learning and few basic folds and using the 12 sets of acrylic templates provides infinite possibilities. In this technique driven class, you will create 3 yards of bold and graphic Indigo patterns.

---
"Love Triangles" - Itajime Shibori


Using just two basic triangle itajime shibori folds, you will discover the endless possibilities by simply changing the template shape or location. You will create a fabulous collection of 12 fat quarters using fiber reactive indigo dye and a reusable set of acrylic templates.
---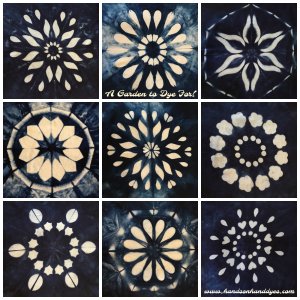 "A Garden to DYE For!" - Itajime Shibori

Create a bold and graphic garden of fun and playful patterns in this rewarding class. Each or your 22" x 22" panels will inspire your quilting, beading and embellishment talents. Your reusable tool kit will keep you exploring the fun and creative art of itajime shibori for years to come.
---


"Pole Dancing" – Arashi Shibori
This fun and exciting kit explores the ancient art of pole wrap Shibori using some innovative tools and modern dye techniques. You will dye 3 yards of amazing Shibori patterns.In this class we will use dye thickener to "paint" the dye onto the fabric wrapped poles.
---

"FROZEN" - An Ice Dyeing Mashup Class

We have already learned the basics of snow and ice dyeing, but how else can we use this amazing technique? It is truly a random experience, or can we learn to Snow Dye with intent? Learn the art of patterned Snow & Ice Dye techniques and create a collection of beautiful related patterns like the Mandalas, Ikats and Chevron. You will make Four (4) 1 yard pieces in this class.
---
Magical Mini Mandalas – Ice Dyeing for the Soul
Mandalas represent the universe, and our place within it. Explore the infinite
variety of mandalas in this fun and exciting variation of snow and ice dyeing.
Each student will fold and dye nine (9) 22" x 22" mandalas.

---
Freezing Your Backsides – Ice Dyeing Wide Width Fabrics
Explore the infinite possibilities for dyeing our quilt backs in this fun and exciting variation of snow and ice dyeing. After a discussion of styles, each ach student will fold and dye one (1) wide width patterned fabric measuring 104" x 104". Limited class size ensures ample elbow room and individual attention.
---

Tweaking Batiking – Exploring Water Soluble Resists
Imagine the infinite possibilities for creating pattern on fabric using water soluble resists. By exploring Corn and Potato Destrin, Cassava Root Paste and Soy Wax, we will stamp and stencil our way into some lovely batik looking prints! Best of all, boiling the wax out as these resists all wash out in cold water!
---
Black Magic – Exploring Color Removal
By starting with black fabric, this class explores the idea of using non bleach de-colorant to create pattern on fabric. We will Stamp, stencil and dye a beautiful 3 yard collection of fabric in this fun and artistic class.
---
Cindy offers a complete and line of kits and classes, from beginning to advanced, and she is always working on the next new and exciting fabric dyeing technique or tool to add to this extensive list.
Many fabric stores, quilting events and guilds have realized the attraction for textile arts and fabric dyeing classes. Designed to be compact, tidy and portable, the kits Cindy offers through Hands On Hand Dyes have become the backbone of her classes. Believing in the right tools for different projects, each kit provides a variety of tools for mixing, measuring, safety and technique. There is even a non-toxic textile detergent to ensure that each treasured hand dyed fabric is brilliant and color fast. Each kit starts with her own brand of high quality prepared for dye fabric. This 100% Cotton, mercerized "PFD" dyers cloth has become a favorite, and ensures each student will achieve remarkable results. It is also crafted in the USA!
Classes can be combined to offer a nice variety of experience for your students. When several classes are offered as a series, 65% of the students will sign up for all of the classes offered, making each event financially lucrative for all. Classes can be customized for any group, event or venue, and can be surprisingly affordable. When you group 2 classes as one workshop, the materials price may be reduced.
Read through the following information and see why a Hands On Hand Dyes fabric dyeing event with Cindy Lohbeck is a great idea for your shop, guild event or retreat. If you have any questions, or with help customizing a workshop series for your event, please contact arteeest@handsonhanddyes.com -
Cindy Lohbeck
Hands On Hand Dyes